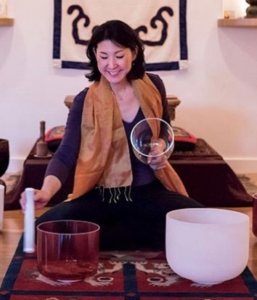 Born and raised in Japan, Miyu moved to the United States and established YU Healing Arts with her husband in Nevada City, California. The clinic is dedicated to the healing arts including Sound Healing, Shiatsu Therapy, Acupuncture and Herbal Medicine since 2004. Working intimately with each person, her hands on therapy helps her understand and cultivate deep listening, holding a healing space for one to integrate and harmonize all aspects of self.
Miyu teaches the monthly program of Sound Healing Meditation at Mountain Stream Meditation/Nevada City Insight Center in California where community members come to meditate together. She also teaches Mindful Movements, Yin and Restorative Yoga at Full Life Yoga Studio in Nevada City.
In addition to her healing practice, Miyu owns and operates Sacred Japan travel company. For 20 years, she's been leading groups on transformational journeys into the heart of Japan, creating a bridge of peace between Japanese culture and the West.