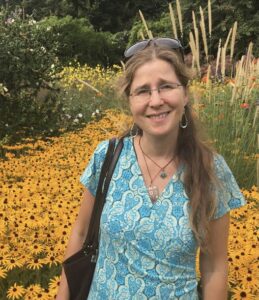 Body Worker
About Rosen Method Bodywork: 
Rosen Method Bodywork is a gentle yet powerful massage that uses attuned and compassionate touch to relax chronic muscle tension, calm the nervous system and restore wellbeing and ease. It can help release long held physical and emotional tension and bring awareness to holding patterns in the body. Many clients report states of deep relaxation and increased awareness in body and mind after receiving a treatment. 
Rosen Method Bodywork can:
Reduce pain, chronic tension and stress

Promote physical and emotional awareness

Restore feelings of wellbeing, aliveness and joy
Brief Bio: 
Anette Koegler is a bodyworker, restorative yoga teacher, and somatic breath/mindfulness coach. She is currently completing her 5-year training in Rosen Method Bodywork in Berkeley, CA, and has certifications in Thai Foot Massage (Thailand), Wellness Massage and as a relaxation and stress management trainer (Germany). Originally an anthropologist, Anette has spent several years in the Himalayas on pilgrimages, doing research and studying the Tibetan language. She has lived at Odiyan monastery for 10 years as a full-time volunteer and is an ardent student of meditation and the mind. She currently splits her time between Germany and California, where she offers bodywork and coaching sessions at the acupuncture clinic in Ukiah, CA. 
Here is her website for further information: fullybeing-bodywork.com