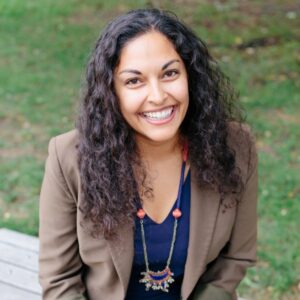 Sriya Bhattacharyya, PhD, is a Bengali-Indian American psychologist working at the intersection of social transformation + creative healing. With a background in community development, yoga, and art therapy, she teaches, researches, designs programs, and provides individual services to dismantle systems of oppression, uplift community voices, and liberate all beings. Her facilitation style is compassionate, curious, and playful.
Sriya was introduced to yoga and meditation through her family,  a mix of Hindu priests and Freedom Fighters who live in Kolkata, India and the United States. She recalls her father having her sit as a child in a closet and watch a candle flame for five minutes quietly to build her contemplative capacity. Her path to the arts began at a young age, she felt more comfortable articulating her feelings through art than verbalizing them. She has trained under numerous healing arts practitioners and art therapists – including with the Center for Arts in Medicine at the University of Florida where she conducted bedside arts with hospital patients and their families in Gainesville, FL and developed public health messages through theater and community murals in Gisenyi, Rwanda. She has received grants to develop a number of art programs including a children's needs assessment through the arts: Children of Rwanda: Visions of Hope and Unity; a mixed-media healing arts group therapy program for low-income women: Women Healing and Thriving Community Arts Group; a therapuetic arts trauma-intervention for human trafficking survivors: STARS Experitial Arts Group; a photovoice project documenting Asian American experiences during COVID-19: Asians* Unmasked; and a public community COVID-19 grief project engaging poetry and origami: The Crane Project.
Sriya sees herself as "in recovery" from the "grind" – moving from being a middle & high school drop-out to completing her doctorate and walking the academic path. She is on a journey to re-discover and re-connect with her inner warrior priestess and the roots she finds to be truly healing – relationship to the earth, body-soul connection, and creative arts expression. When she's not teaching, find her collecting Junior Ranger badges from National Parks. She can't wait to meet you and discover your inner world.