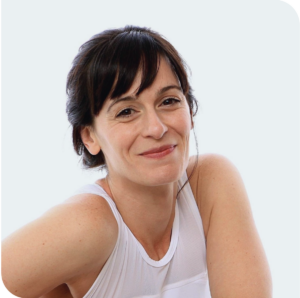 Lesley Desaulniers is known for her energizing, soulful and inspiring classes.
Her gift for storytelling and passionate connection to music and art make each class a dynamic journey of sound, spirit and soul. She was trained in yoga under the expert guidance of Sharon Gannon and David Life of Jivamukti Yoga, and is one of Northern California's most in demand teachers.
Lesley has been studying yoga and meditation since 1996, taking her practice to New York, Russia, India and back. In her early twenties, Lesley was a resident at Ananda Ashram in upstate New York, where she intensively studied Sanskrit, meditation, philosophy, yoga, and chanting. She was later certified by master teachers Sharon Gannon and David Life and went on to teach at the Jivamukti Yoga Center in downtown Manhattan.  She returns to NYC several times a year to lead workshops and teacher trainings.
Lesley was featured in Origin magazine's "Leaders Who Inspire" series, and selected by Mantra magazine as one of San Fransico's leading yoga teachers. She serves on the faculty at Kripalu Center for Yoga and Health, 1440 Multiversity, Omega Institute,  and Yoga Journal Conferences. Lesley teaches 'Transformational Vinyasa Yoga' workshops and retreats at premier yoga destinations throughout the year. Lesley has been a Lululemon brand Ambassador (Brooklyn) and the Athleta brand ambassador for Northern California. She has  been featured in GOOD magazine, New York Magazine (Best of NY), Real Simple, Mantra Magazine, Vogue, Origin, The NY Observer, Fit Yoga Magazine, YogaCity NYC, L magazine, among others.
Lesley continues to study, practice, and teach daily. Her classes are imbued with a rare blend of sweaty Vinyasa, scholarly study, spiritual awareness, and good humor. Lesley feels thankful for the many wonderful teachers she has encountered along the path.
Events with Lesley Desaulniers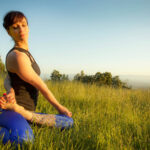 Transformational Vinyasa - A Weekend Retreat
April 4 - 7, 2024
We welcome our special guest teacher, Leslie Desaulniers, to share a weekend of music, meditation, chanting and soulful, sweaty vinyasa! Yoga doesn't just make your body stronger and more flexible; it can ignite your passion, boost your energy, and illuminate your inner vision. Our weekend retreat will be packed full of music, meditation, chanting, and soulful, sweaty Vinyasa. Sought-after yoga teacher Lesley Desaulniers and special guest musicians will guide you in an exploration of yoga…