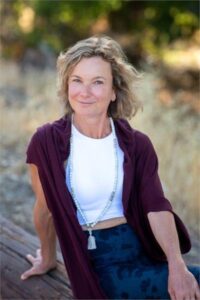 Uli developed a love for Yoga through her biggest life passions: Running and Hiking. First as a means to cross train but as her
practice evolved, the tremendous physical and mental benefits motivated her to dive deeper. Uli has hiked extensively in Southern Marin and trekked in Peru, Patagonia, Nepal, along the PCT and John Muir trails in the High Sierras and climbed Mount Shasta. Over the past few years Uli also led several hiking trips to Yosemite, Lassen, Pinnacles, Moab and
Arches National Parks.
Yogawork's 200 hour Yoga Teacher Training kick-started her Yogaeducation in 2020. Uli was fortunate to train under the guidance of Christy Brown who studied with Sri K. Pattabhi Jois in India, Sarah Powers, T.K.V. Deskachar and H.H. the Dalai Lama. She is now a certified and Yoga Alliance registered Yoga Teacher. In February 2022, she completed her 50 Hour Yin Yoga Teacher Training with Sarah Powers, co-founder of the Insight Yoga Institute. Uli teaches at Metta Studio in Corte Madera and San Rafael and leads hiking Retreats in Marin County. You can learn more about her at www.ulikhikeandyoga.com