Women's Self Care Weekend
With Gloria Baraquio, Christine DeCristofaro and Rosalyn White
September 26 - 29, 2019
JOIN US FOR 3 NIGHTS AT RATNA LING'S PREMIER WOMEN'S EVENT. REGISTRATION IS LIMITED TO 28 GUESTS
Ratna Ling's Women Self-Care is an annually anticipated event with many women returning each year to share the love and community. So whether it is your first time or fourth, come join us for a long weekend of healing sisterhood – the Realm of Treasures is waiting ….. 
ABOUT THE PROGRAM
Are you hungry for a safe place to connect and open up? 
Come together with fellow women to celebrate our innate strength, wisdom, and compassion. We will celebrate the importance of connecting with girlfriends and remember all the beautiful parts of being a woman.  This time is to reconnect to the sacred feminine and cultivate a community of sisterhood and solidarity through deep listening, laughter, self-care, and ceremony.  This retreat is for you if you love women, miss your sisters, or want to deepen your relationship with the feminine, soft, sexy, strong, surrendered parts of yourself.
This weekend will include:
Yoga for all levels

Meditation

Visioning

Dance

Bodywork and massage (at an additional cost)

AND MORE
SCHEDULE (Subject to change):
Thursday, Nov 1
3:00-4:00       Check-in
4:30-5:30        Yoga 
5:30-6:15         Dinner
6:30-7:30         Opening Circle 
Friday, Nov 2
7:00-8:00       Yoga 
8:00-8:45         Breakfast
11:15-12:15        Meditation 
12:15-1:00       Lunch
1:00-4:15         Quiet time, hiking, bodywork and massage by appointment
4:15-5:30         Yoga
5:30-6:15         Dinner
7:00-8:00        Sound Healing 
Saturday
7:00-8:00      Yoga
8:00-8:45       Breakfast
9:00-10:00    Goddess Meditation 
10:30-12:00   Creative Expression 
12:15-1:00       Lunch
1:00-4:30       Quiet time, hiking, bodywork and massage by appointment
4:30-5:30      Your Inner Script 
5:30-6:15        Dinner
7:00-8:00       Dance Playshop
Sunday
8:30-10:00      Yoga & Closing Circle
10:00-11:00     Brunch
12:00                 Check out
CLASS DESCRIPTIONS
YOGA
These yoga classes are designed for all levels, incorporating breathing, stretching, and fluid movements.  The postures and techniques help to stabilize and calm the nervous system, strengthen muscles, and tone the organs, bringing more ease and circulation throughout the body. You can expect to feel more relaxed, aware, harmonized, and energized from this yoga practice.
GODDESS MEDITATION
Learn through sacred art about Buddhist feminine deities and their mantras for meditation.  This session will offer practices of visualization and sound vibration to call on the qualities of the sacred feminine.
CREATIVE EXPRESSION
Explore spontaneity and play through expressive arts! Get creative with how you move in your voice, body, mind, and emotions. Through archetypal and mask work, this session will give you a safe space to discover and free any parts of you, or feelings that haven't been able to be expressed in other arenas of your life.
DANCE PLAYSHOP
Set your inner goddess free with yoga, movement, and dance! Connect with all the chakras, shakti energy, and feel the flow of life throughout your entire body.  This session will include guided breathing, visualization, freestyle forms, and lots of fun and play!
COMPASSIONATE COMMUNICATION
Tune in to your inner dialogue and gain new tools to reframe, rethink, and reword the script of your life.  Discover fresh and inspiring new ways to see yourself, love yourself, and manifest the life you want.
Facilitators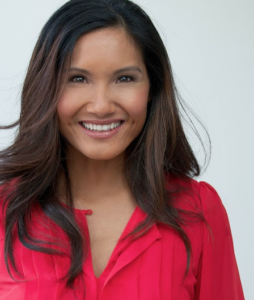 Gloria Baraquio
Born and raised in Hawaii, Gloria has been teaching vinyasa since 2006, studying Tibetan Buddhism since 2004, and singing devotional music since she was a young child.  She earned her 200-hour certificate from Yoga Hawaii and her 300-hour certificate with Raghunath Cappo and Radhanath Swami in India.  Her aim is to help others cultivate an intimate relationship with themselves and their surroundings so that they can live more fully, with love, peace,  gratitude and well-being. Gloria is our…
Learn more about Gloria Baraquio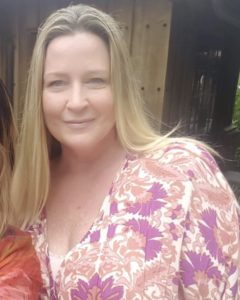 Christine DeCristofaro
Christine is our Group Retreats Director, teacher, and co-creator of many of our Ratna Ling Retreats and Programs. A former corporate finance consultant for Fortune 500 Companies, Christine left all of that behind in 2009 to pursue her true love – being in service and she has never looked back. Christine is a passionate listener, truth seeker, fearless warrior against guilt and shame, and feels blessed to live a life where she helps others touch…
Learn more about Christine DeCristofaro
Rosalyn White
Rosalyn White has studied meditation and Tibetan art under the guidance of the Tibetan Buddhist teacher, Tarthang Tulku, for over forty years. She holds a BFA in Fine Arts from the California College of Art and a teaching credential from UC Berkeley. She is currently Co-Director of Ratna Ling and has been teaching classes in meditation and sacred art for over 25 years. The depth and breadth of the Tibetan teachings have had a profound influence on her…
Learn more about Rosalyn White