Awakening the Senses | SOLD OUT
With Kamali Minter and Heldine Aguiluz
February 7 - 9, 2020
Are you ready to feel more alive and more present in your life?  We practice awakening the senses to be with life exactly as it is and celebrate the spectrum of human experience instead of shunning or ignoring certain parts of ourselves and our lives.  This retreat is designed to give you tools that will attract more joy, love, gratitude, acceptance, and awareness into your life.
This weekend includes:
Voice/Movement Exercises

Sense Exploration

Yoga

Meditation

Dance

Bodywork (for an additional price)
Friday
3:00-4:00     Check-in
4:30-5:30      Yoga – Heldine
5:30-6:30      Dinner
6:45-8:00      Opening Circle – Kamali
Saturday
8:00-8:45       Breakfast
9:00-10:00     Sense Meditation – Kamali
11:00-12:00    Tantric Movement – Nane
12:15-1:00       Lunch
1:00-1:30        Temple Tour & Meditation with senior community member Rosalyn White
1:30-4:30        Quiet time, hiking, bodywork and wellness treatments by appointment, seva
4:30-5:30        Dance & Expression – Heldine
5:30-6:30        Dinner
7:00-8:15        Sensory Awakening – Kamali
Sunday
8:00-9:00       Yoga & Meditation – Heldine
9:00-10:00     Closing Circle – Kamali
10:00               Brunch
12:00               Checkout
All bookings are NON-REFUNDABLE. Should you wish to cancel your stay with us, Ratna Ling Retreat Center requires 30 days notice for your full credit to be TRANSFERRED to a future retreat within 1 year of original booking. 
CLASS DESCRIPTIONS
YOGA
These yoga classes are designed for all levels, incorporating breathing, stretching, and fluid movements.  The postures and techniques help to stabilize and calm the nervous system, strengthen muscles, and tone the organs, bringing more ease and circulation throughout the body. You can expect to feel more relaxed, aware, harmonized, and energized from this yoga practice.
SENSE MEDITATION
This class will guide you to experience all of your senses: touch, smell, taste, sound, sight, visualization, emotion, and intuition. Get to know all of your capacities to feel, experience, and know.
TANTRIC MOVEMENT
In this class, you will learn how to move energy through, throughout, and out of the body. Learn how different movements and sounds can invoke various feelings and emotions, and vice versa. In this way, you can have more awareness and control of how you feel throughout your day.
DANCE & EXPRESSION
Set yourself free with movement and dance! Connect with all the chakras, shakti energy, and feel the flow of life throughout your entire body.  This session will include guided breathing, visualization, freestyle forms, and lots of fun and play!
SENSORY AWAKENING
This class is a culmination of all of the reflections and opening of your senses. Expect to have fun, explore, discover, and reveal new parts of yourself in a safe space.
Facilitators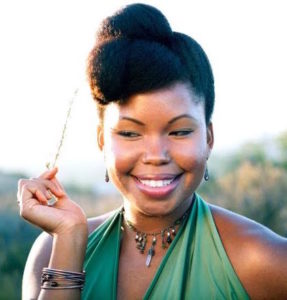 Kamali Minter
Kamali is passionate about helping people restore connection where it has gone missing, both in their relationships and their bodies.  She completed her 200-hour Yoga Teacher Training with Shivakali Yoga, her Tantra teacher training with Embody Tantra, and is a certified Sacred Feminine facilitator through Tao Tantric Arts and the Universal Tao, and is a trained Reiki Master.  Her approach to healing is about making ancient wisdom relevant to our modern lives by guiding practices that have been…
Learn more about Kamali Minter
Heldine Aguiluz
A Los Angeles native, Heldine has been practicing yoga since 2010 and teaching since December 2016. She earned 500 hours of yoga certification with Shivakali Yoga, studying alignment-based vinyasa and elemental tantra. She started taking pole and twerk dance classes in January 2017.  Heldine sees yoga and dance as meditative ways to deepen awareness about one's body and thoughts and hopes to give others the tools they need to find deeper self-love. More info: trainersvault.com/heldinea
Learn more about Heldine Aguiluz