Alignment, Breath, and Core: Exploring Fundamentals of Yoga Asana | CANCELLED
With Gloria Baraquio
April 2 - 5, 2020
Alignment, Breath, and Core: Exploring Fundamentals of Yoga Asana
4-Day Yoga Intensive in the Redwoods
With Gloria Baraquio, E-RYT 500, Lead Trainer of Shivakali Yoga
With our intent to make yoga and retreats more accessible to others, we are offering a sliding scale for this intensive. Please pay what you can, and pay it forward!

Are you looking to strengthen your yoga practice and improve your form?  Do you struggle with certain postures, and you're not sure why? Are you looking for new ways to understand your body, its capacity and its limitations?  If you're ready to gain a deeper understanding of how yoga postures work in relation to breath, gravity, anatomy/physiology, and mindstate, then this yoga intensive is designed for you.  In this 4-day retreat, we will have daily yoga practice, multiple posture clinics, and time for meditation and reflection.  We will break down specific postures (classical, advanced, restorative, etc.) and study different bodies in the room to see how the same pose can be accessed in a variety of ways. You will leave with experiential knowledge of yoga science and a deeper respect for your body, the breath, and the teachings.  
Gloria Baraquio has taught over 10,000 hours of yoga to students of all ages in 8 different countries.  She has found key principles and commonalities in all bodies and minds, and she shares her enthusiasm for yoga science in all of her teachings.  She is our Resident Yoga Teacher and Program Director at Ratna Ling.  You can learn more about Gloria at gloriabaraquio.com.
*This training is best suited for those who have practiced yoga, athletics, dance, or somatics for 2+ years. Yoga Alliance Teachers can earn 15 hours of Continuing Education Hours. Please purchase the add-on $85 option for CEU registration.
**Massage, acupuncture, and private yoga/meditation are available at an additional cost.
SCHEDULE (subject to change):
Thursday
3:00-4:00       Check in 
4:30-5:30        Yoga – Gloria
5:30-6:15         Dinner
6:30-7:30        Opening Circle – Gloria & Staff
Friday
7:00-8:00      Yoga – Gloria
8:00-8:45       Breakfast
9:00-10:30     The Fundamentals of Yoga Asana – Gloria 
11:00-12:00    Surya Namaskar Clinic – Gloria
12:15-1:00       Lunch
1:00-1:30       Temple Tour – Ros
1:00-3:30        Quiet time, hiking, bodywork and massage by appointment
3:30-5:30        Posture Clinic – Gloria
5:30-6:15        Dinner
7:00-8:00       Kirtan – Gloria & Friends
Saturday
7:30-8:00 Meditation – Gloria
8:00-8:45       Breakfast
9:00-10:00     Every Body is Different – Gloria
10:30-12:00    Yoga – Gloria
12:15-1:00       Lunch
1:00-3:30        Quiet time, hiking, bodywork and massage by appointment
3:30-5:30       Inversions & Arm Balance Clinic – Gloria
5:30-6:15        Dinner
7:00-8:30       Restorative Posture Clinic – Gloria
Sunday
7:30-8:00       Meditation – Gloria
8:00-9:00       Yoga – Gloria
9:00-10:00     Closing Circle – Gloria & Staff
10:00-11:00     Brunch
12:00                Check out 
Facilitator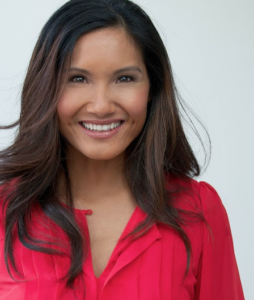 Gloria Baraquio
Born and raised in Hawaii, Gloria has been teaching vinyasa since 2006, studying Tibetan Buddhism since 2004, and singing devotional music since she was a young child.  She earned her 200-hour certificate from Yoga Hawaii and her 300-hour certificate with Raghunath Cappo and Radhanath Swami in India.  Gloria has practiced with spiritual, indigenous, and ancient traditions from Hawaii, Catholicism, Christianity, Baha'i, Agape, Vaishnavism, Hinduism, Tantra, Kundalini, Zen, and Vajrayana Buddhism.  Her aim is to help each individual cultivate an…
Learn more about Gloria Baraquio