The Adventure of Kum Nye Dancing
With Andi Egle
November 24 - December 17, 2020
Kum Nye Dancing Online
8:30 to 9:30 AM  Tuesdays and Thursdays
Nov 24-Dec 17, 2020
In the pulse of time, our whole-ness and complete-ness is continually expressed.  Without any boundaries our creativity is dancing.
As human beings, we know the world through filters and structures, ranging from the limits of our senses to the cultures in which we are raised, hardened by habit and repetition.  With Kum Nye we can recover our fresh and spontaneous response to the world. We can change the program.
With Tibetan lama Tarthang Tulku's Kum Nye Dancing we can follow the example of the yogi, who is determined to stop the mindless momentum of automatic responses to outer circumstances. The yogi takes hold of the instant of embodiment and instead of following the programming of the senses, reconnects with our roots, the nature of our being. Grounded in the seed of our human-ness, karmic patterns loosen their power and we can create our own experience based on our potential of freedom.
Register any time, YouTube recordings of all classes will be available for classes you missed.
Facilitator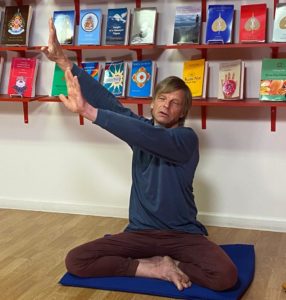 Andi Egle
Andi Engle received degrees from both the College of Arts of Riga and the Academy of Arts of Latvia. He has been a student of the Tibetan master, Tarthang Tulku, since 2009. During this time, he has created numerous sculptures in the Buddhist tradition, along with studying and practicing various forms of Kum Nye.
Learn more about Andi Egle