Quiet Spaces: A Winter Retreat
With Gloria Baraquio, Kimberly Millard and Heldine Aguiluz
December 10 - 12, 2021
For your safety and ours, we require proof of vaccination from all visitors and residents of Ratna Ling Retreat Center. We wish to provide peace of mind for all of our guests.
As the season turns to more darkness and cold, our bodies naturally long to retreat inward.  December is a time to reflect on what has transpired in the year and process all of the emotions and experiences of 2021.  This retreat is designed for you to get quiet, to sit by the fire, drink some tea, let the mind settle, and just lay down.  Let yourself be silent and enjoy the gifts of stillness.
This program includes:
restorative yoga classes
sitting meditation
silent movement
nature walk
fireside mantras
journal time
Classes are for all levels, both beginners and seasoned practitioners.  We invite you to slow down with us.
Schedule (Subject to Change):
FRIDAY
3:00pm                 Check-in
4:30-5:30pm       Grounding Meditation – Gloria
5:30-6:15pm        Dinner
6:45-8:00pm       Restorative Yoga – Kim
SATURDAY
8:00-8:45am         Breakfast
9:00-10:00am       Meditation – Heldine
11:15am-12:15pm  Nature Walk – Kim
12:15-1:00pm        Lunch
1:00-4:30pm         Quiet time, hiking, journaling, reading, or bodywork by appointment
4:30-5:30pm        Silent Dance – Gloria
5:30-6:15pm         Dinner
7:00-8:00pm        Fireside Music & Mantra – Heldine
SUNDAY
8:00-9:00am       Yoga – Kim
9:00-10:00am     Closing Meditation – Gloria
10:00-11:00am    Brunch
12:00pm               Check out
Facilitators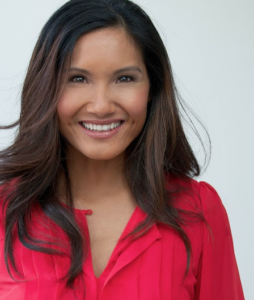 Gloria Baraquio
Born and raised in Hawaii, Gloria has been teaching vinyasa since 2006, studying Tibetan Buddhism since 2004, and singing devotional music since she was a child.  She earned her 200-hour certificate from Yoga Hawaii and her 300-hour training with Raghunath Cappo and Radhanath Swami in India.  Gloria has practiced with spiritual, indigenous, and ancient traditions of Hawaii, Catholicism, Christianity, Baha'i, Agape, Vaishnavism, Hinduism,  Zen, and Tibetan Buddhism.  Her aim is to help each individual cultivate…
Learn more about Gloria Baraquio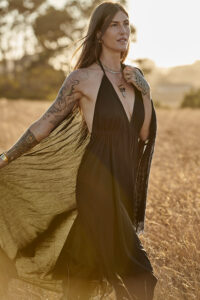 Kimberly Millard
Kimberly Millard is an esteemed Yoga Therapist, Ayurvedic Health Counselor and Yoga Teacher Trainer. She received her 500hr Yoga Teacher Training certification through Shivakali Yoga, International Association of Yoga Therapists Certification through Loyola Marymount University, and 750 hour Ayurveda Health Counselor certification through Joyful Belly. Kim's classes weave together extensive training in sanskrit, vinyasa, hatha, ayurveda, yoga nidra, restorative, pranayama, meditation and yoga philosophy based on sacred texts such as The Yoga Sutras, Upanishads, and…
Learn more about Kimberly Millard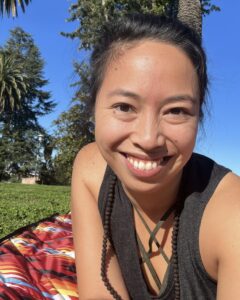 Heldine Aguiluz
As a Los Angeles native, Heldine has been practicing yoga since 2010 and teaching since 2016. She earned 500 hours of yoga certification with Shivakali Yoga, studying alignment-based vinyasa and elemental tantra. She started taking pole, twerk, and aerial dance classes in January 2017.  Heldine sees yoga and dance as meditative ways to deepen awareness about one's body and thoughts and hopes to give others the tools they need to find deeper self-love.
Learn more about Heldine Aguiluz