Connected and Centered Yoga Retreat
With Fiji McAlpine
June 7 - 12, 2022
Step out of the busyness of daily life and return to feeling connected and centered.  This retreat will honor our need to connect with nature, self, and community, giving us an opportunity to thrive and be nurtured by the serene natural environment of Northern California and the calming energy of Ratna Ling. There will be an abundance of yoga, pranayama, free time, relaxation, and nourishing food.
Fiji is an RYT 500 who has been leading retreats and trainings around the world for the past decade.  This will be her first time to Ratna Ling and she is excited to share this new adventure with all of you.
Transportation Here:
If you do not live nearby, most people will fly into SFO, OAK, and STS Airports.  Most guests rent cars to arrive here.  There is time on the breaks to explore the beautiful Sonoma Coast.  We do not currently offer shuttle service in our remote area, but we can connect you with guests who would like a rideshare from the Bay Area. Please contact us before or after booking so that we can link you to those interested in carpooling.
Schedule (Subject to Change):
TUESDAY
3:00pm                 Check-in
4:30-5:30pm       Free time to settle and explore
5:30-6:15pm        Dinner
6:45-8:00pm       Yoga and Opening
WEDNESDAY-SATURDAY
8:00-8:45am         Breakfast
9:30-11:00am       Yoga
11:15am-12:15pm  Free time
12:15-1:00pm        Lunch
1:00-4:00pm         Quiet time, hiking, journaling, reading, or bodywork by appointment
4:00-5:15pm        Yoga and pranayama
5:30-6:15pm         Dinner
SUNDAY
8:00-10:00am     Yoga practice and Closing Meditation
10:00-11:00am    Brunch
12:00pm               Check out
Facilitator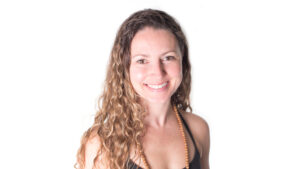 Fiji McAlpine
Fiji McAlpine is an ERYT 500 yoga instructor and teacher trainer who has been teaching for over 20 years, and is one of the founding yoga teachers featured on DoYogaWithMe.com. Fiji's personal practice and classes focus on vinyasa flow, infused with power, strength and precision. Having trained extensively in California, Costa Rica, and Canada, her classes are often described as a strong practice that allows students to face challenges with support and guidance, inspiring them…
Learn more about Fiji McAlpine