Women's Self-Care Retreat 2022
With Heldine Aguiluz and Sierra Vandervort
October 28 - 30, 2022
Are you hungry for a safe place to connect and open up with fellow women? 
Sisters! Come together on a special retreat to celebrate your innate strength, wisdom, and compassion. We will celebrate the importance of connecting with girlfriends and remember all the beautiful parts of being a woman.  This time is to reconnect to the sacred feminine and cultivate a community of sisterhood and solidarity through deep listening, laughter, self-care, and ceremony.  This retreat is for you if you love women, long for sisters, or want to deepen your relationship to the feminine, soft, sexy, strong, surrendered parts of yourself.
This weekend will include:
Yoga for all levels

Guided Meditation

Visioning and Journaling

Expressive Movement

Bodywork and massage (at an additional cost)

AND MORE
SCHEDULE (Subject to change):
FRIDAY
3:00pm                  Check-in
4:30 – 5:30pm      Grounding Yoga – Heldine
5:30 – 6:15pm       Dinner
6:30 – 8:00pm      Opening Circle
SATURDAY
8:00 – 8:45am       Breakfast
9:00 – 9:30am       Mindfulness Meditation Practice – Heldine
11am -12:15pm      Embodiment practice for releasing – Sierra
12:15 – 1:00pm       Lunch
1:00 – 4:30pm        Quiet time, hiking, journaling, reading, or bodywork by appointment
4:30 – 5:30pm        Tea & Journaling – Heldine
5:30 – 6:15 pm        Dinner
6:30 – 7:45 pm        Yin & Yoga Nidra – Sierra
SUNDAY
8:00 – 9:00       Awaken the Wild Woman – Yoga Class – Sierra
9:00 – 10:00    Closing Circle
10:00 – 11:00   Brunch
12:00pm          Check out
Facilitators
Heldine Aguiluz
As a Los Angeles native, Heldine has been practicing yoga since 2010 and teaching since 2016. She earned 500 hours of yoga certification with Shivakali Yoga, studying alignment-based vinyasa and elemental tantra. She started taking pole, twerk, and aerial dance classes in January 2017.  Heldine sees yoga and dance as meditative ways to deepen awareness about one's body and thoughts and hopes to give others the tools they need to find deeper self-love.
Learn more about Heldine Aguiluz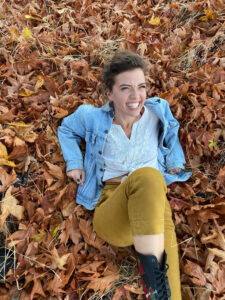 Sierra Vandervort
Sierra is a writer, modern mystic & community builder. She's been practicing yoga for nearly a decade & got certified to teach in 2018. She teaches all about connection: connection to the body, to nature & to the universal love that holds us all together. She also loves blending witchy practices like moon magic & the wheel of the year into her classes. Sierra's global community network – The Mystic Members Club – helps women deepen their…
Learn more about Sierra Vandervort