Workshop Retreat with Jason Bowman
With Jason Bowman
September 15 - 18, 2022
We welcome back Advanced Yoga Teacher Jason Bowman of San Francisco for a special retreat at Ratna Ling!
Enjoy three nights at our gorgeous center in the redwoods with Jason Bowman.
We're doing it a little differently this time… Workshop style!
In addition to a regular morning practice, each day will have an in-depth (but not boring—I promise!) look at a different aspect of the physical practice. The aim is to give space for certain pieces of context and detail that don't fit into the pace of the led class. We'll unpack some common actions and transitions in order to give them a chance to shine, hopefully in such a way that brings a new depth of engagement back into the routine. This will include common misalignments and injuries, as well as an exploration of any questions that arise. The weekend will essentially be a mini alignment immersion/training. I'm really excited for it!
Accommodations:
Each cottage has two queen beds, which are located in separate rooms. The cottages are large and have high ceilings, with a living room, kitchen, and full bathroom. The whole center is luxurious and comfortable.
Fee:
The fee for the weekend is $1,000.  This includes accommodations, meals, yoga, taxes… everything except massages, which are optional and can be booked with the hosts.
If you're signing up with a friend or partner, please indicate in the registration notes so we get you in the same cottage. For single guests who want a private cottage, there's a separate fee.
Schedule:
Thursday:
3:00pm – Arrival
4:00-5:30pm – Vinyasa class
5:45pm – Dinner
7:30pm – Discussion
Friday:
6:00-7:00am – Sitting period (optional)
7:15-8:30am – Vinyasa class
8:30am – Breakfast
10:00am – 12:00pm – Free time/hike
12:30pm – Lunch
1:00-3:30pm – Free time/hike
3:30-5:30pm – Workshop 1
5:45pm – Dinner
Saturday:
6:00-7:00am – Sitting period (optional)
7:15-8:30am – Vinyasa class
8:30am – Breakfast
10:00am – 12:00pm – Free time/hike
12:30pm – Lunch
1:00-3:30pm – Free time/hike
3:30-5:30pm – Workshop 2
5:45pm – Dinner
Sunday:
7:15-8:15am – Sitting period (optional)
8:30-10:00am – Workshop 3
10:00am – Brunch
Afternoon(ish) – Check out
Facilitator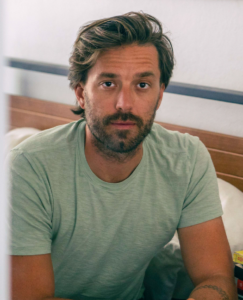 Jason Bowman
Jason Bowman leads teacher trainings, retreats, and guest lecture series both around the US and internationally and is strongly influenced by years of Ashtanga Yoga and Vipassana Meditation practice. www.jasonbowmanyoga.com
Learn more about Jason Bowman