A Weekend of Self-Care | MLK Day 2023
With Kimberly Millard and Sriya Bhattacharyya
January 13 - 16, 2023
JOIN US FOR OUR PREMIER 3 NIGHT PROGRAM ON MLK WEEKEND.  PLEASE BOOK EARLY, AS THIS EVENT WILL SELL OUT. RESERVATIONS ARE LIMITED TO 26 GUESTS 
In the fast-paced world of mobile devices, cars, planes, deadlines, and capitalism, we can lose track of what's important, like our well-being, inner peace, laughter, and our personal truth.
You matter, and you are more than enough. That phone call or email can wait. Your family or job will be fine without you always being there.
Treat yourself and take four days at Ratna Ling to unwind, reflect, and breathe into your fullness. Remember what you value the most, and then return to your life with a renewed sense of ease, joy, and strength.
With the use of yoga, meditation, and playful creative exercises, we will free up stagnation in the body and mind so that it can be directed toward building vitality. What is possible for you? What is your potential? You will never know if you don't try something new and different. We will lovingly guide you on this journey!
This weekend includes:
yoga and movement
meditation and nonverbal practices
art and journaling
dialogue and council
time in nature
Sample Schedule (Subject to Change):
Friday
3:00-4:00    Check-in
4:30-5:30      Yoga, meditation & breath
5:30-6:30      Dinner
6:45-7:30      Opening Circle 
Saturday      
8:00-8:45     Breakfast
9:00-10:30   Yoga, Meditation & breath 
10:45-12:00   Dreamlining- Explore through collage where you are at this moment in your life, and where you'd like to go.
12:15-1:00     Lunch
1:00-5:30     Quiet time, journal prompts, bodywork, or private sessions with instructors by appointment. 
5:30-6:30     Dinner
7:00-8:30     Restorative yoga with crystal bowl sound bath  
Sunday
7:30-8:00    Meditation on the elements – connecting inner and outer nature 
8:00-8:45      Breakfast
9:00-10:00    Intuitive Movement 
10:15-11:30   Creative expression – Let the unconscious rise into consciousness through water color to reflect feelings and insights that arose during movement
12:15-1:00      Lunch
1:00-4:30       Quiet time, journal prompts, bodywork, and massage by appointment 
4:30-5:30       Guided forest bathing 
5:30-6:30       Dinner
7:00-8:00     Yin yoga 
8:00-8:30    Music and song circle 
Monday
8:00-9:00     Meditation & Inspiration 
9:00-10:00    Closing Circle 
10:00-11:00   Brunch
12:00             Checkout
Facilitators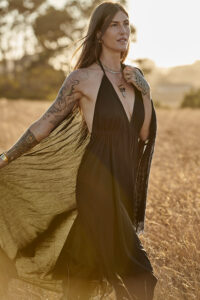 Kimberly Millard
Kimberly Millard is an esteemed Yoga Therapist, Ayurvedic Health Counselor and Yoga Teacher Trainer. She received her 500hr Yoga Teacher Training certification through Shivakali Yoga, International Association of Yoga Therapists Certification through Loyola Marymount University, and 750 hour Ayurveda Health Counselor certification through Joyful Belly. Kim's classes weave together extensive training in sanskrit, vinyasa, hatha, ayurveda, yoga nidra, restorative, pranayama, meditation and yoga philosophy based on sacred texts such as The Yoga Sutras, Upanishads, and…
Learn more about Kimberly Millard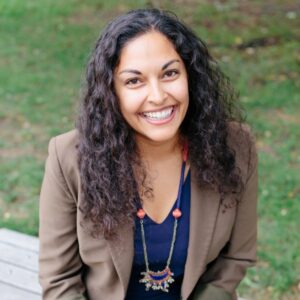 Sriya Bhattacharyya
Sriya Bhattacharyya, PhD, is a Bengali-Indian American psychologist working at the intersection of social transformation + creative healing. With a background in community development, yoga, and art therapy, she teaches, researches, designs programs, and provides individual services to dismantle systems of oppression, uplift community voices, and liberate all beings. Her facilitation style is compassionate, curious, and playful. Sriya was introduced to yoga and meditation through her family,  a mix of Hindu priests and Freedom Fighters who…
Learn more about Sriya Bhattacharyya