Lotus of the Heart – A yoga & meditation retreat
With Christie Pitko
May 12 - 14, 2023
We welcome our special guest teacher, Christie Pitko, to share a weekend of meditation, yoga, and reflection.
Celebrate Mother's Day at Ratna Ling!
Like the lotus flower, we can learn to open ourselves to beauty, strength, and compassion using various techniques. Connect to the inner landscape of your mind and body through guided meditation and contemplation. Practice a mix of all levels alignment-based vinyasa flow and restorative yoga. Savor delicious healthy meals, and rest your spirits in stunning cottages in the forest. Immerse yourself in this sacred location. Leave our retreat feeling refreshed, rejuvenated, and inspired.
Christie Pitko began practicing yoga in 2001. Since then, she has found that yoga has healed her spirit and ignited her creativity. She teaches an alignment-based flow in both the 200-Hour and 300-Hour Yoga teacher Training programs at Yoga Garden San Francisco. She also teaches yoga and meditation at Salesforce Headquarters in San Francisco.
Christie received her 200-hour teaching certification in 2011, and 300-hour advanced training in 2015 at Barefoot Movement in Oakland. Inspired by Annie Carpenter, Christie continued her yoga education with an additional 300 hours in SmartFlow Yoga with Annie in 2021. She is also a certified Relax and Renew restorative yoga teacher and trainer, having studied with Judith Hanson Lasater in 2016.
She enjoys hosting yoga retreats in California and abroad, as a way of guiding students to deepen their connections to yoga, meditation, and themselves. Christie is passionate about the power of daily meditation.
Schedule (subject to change):
Friday
6:30pm Welcome Circle, Meditation, and Restorative Yoga
Saturday
8:00am – 8:45am Breakfast
10:45am-12:00pm Vinyasa Flow
1:00pm-5:30pm Downtime to hike, get massage, rest
7:00pm – Meditation, Reflection, and Restorative Yoga
Sunday
8:00am-9:30am Meditation and Vinyasa Yoga
Facilitator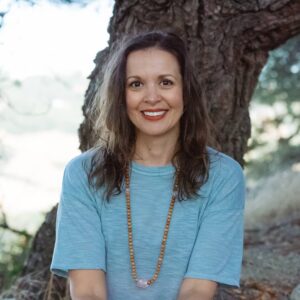 Christie Pitko
Christie Pitko began practicing yoga in 2001. Since then, she has found that yoga has healed her spirit and ignited her creativity. She teaches an alignment-based flow in both the 200-Hour and 300-Hour Yoga teacher Training programs at Yoga Garden San Francisco. She also teaches yoga and meditation at Salesforce Headquarters in San Francisco. Christie received her 200-hour teaching certification in 2011, and 300-hour advanced training in 2015 at Barefoot Movement in Oakland. Inspired by…
Learn more about Christie Pitko