Restoring the Body, Mind & Spirit – A Kundalini Yoga Retreat
With Genevieve Cipes
March 31 - April 2, 2023
We welcome special guest teacher Genevieve Cipes to help you enliven, strengthen and reconnect with all the facets of your Self.
The physical body is the basic temple of which we can deposit the treasure of happiness in life; it is the vehicle to which we may travel gracefully. The mind is the second facet of our human life, it guides our actions and emotions and is our roadmap to know where we are going. The spirit is the fuel to the lamp and helps us to understand the relationship to our own infinite creative energy.
Through the practice of Kriya, Meditation and Gong Healing, we will take a journey deep into the heart of the three bodies: Physical, Emotional + Spiritual. We will learn and practice ancient techniques to gain strong physical systems as well as further develop the foundation for using our meditative mind to serve our will, our Spirit's truest desires.
The Practice:
Kriya: a series of postures, breath and sound that work toward a specific outcome. Each Kriya has a different effect, but all work on all levels of your being. They are perfectly designed sets of exercises meant to produce predictable and subtle impacts
on the total self.
Mantra: the use of sound to affect consciousness; man means mind and trang means wave or projection. This vibration is pure energy. Chanting mantra produces specific vibratory frequency within the body. The sounds and thoughts produced by the body and mind radiate out from you.
Pranayam: The breath contains prana the life force. Prana is the vital force that energizes the mind, body, and consciousness. Your rate of breathing and your state of mind are inseparable. The slower your rate of breathing, the more control you have over your mind.
Schedule (subject to change):
Friday
3:00pm             Check-in
4:30pm             Opening Circle
5:30pm             Dinner
6:30pm             Yoga/Meditation & Sound Healing
Saturday
5:00-7:00am    Morning Sadhana *optional
8:00am             Breakfast
10:00am            Morning Yoga/Meditation & Sound Healing
12:15pm            Lunch
1:00-5:00pm    Quiet time, bodywork/massage by appointment
5:30pm             Dinner
7:00pm             Evening Yoga/Meditation & Sound Healing
Sunday
8:00am             Morning Yoga/Meditation & Sound Healing
9:30am             Closing Circle
10:00am            Brunch
12:00pm            Check out
Facilitator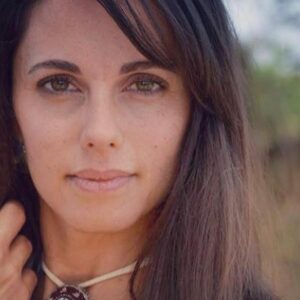 Genevieve Cipes
Genevieve is a KRI certified Kundalini Yoga Teacher and has an integrative healing practice. She offers services as a mentor, teacher, coach, Reiki practitioner, intuitive and ceremonialist. She is a lover of people and life and is intent on helping others in every needed way. Her mission is to support and engender the power of each human being to impact their own lives in positive and affirming ways. Genevieve has studied with indigenous teachers since…
Learn more about Genevieve Cipes