Finding Equanimity – A Hiking & Yoga Retreat
With Uli Koehne
September 22 - 24, 2023
We welcome Uli Koehne as our Guest Teacher for a peaceful, restorative retreat with yoga and hiking!
In our modern, busy lives with constant demands and stream of stimuli around us, it is easy to drift out of balance. Sometimes we are not even aware how disconnected we are and why we might feel drained, zapped and not in harmony with our body and mind. Finding equanimity first starts with recognizing that we lost it. It starts with a moment of pausing. Fall presents the perfect opportunity to take some time to re-establish this inner balance. It is the quieter season between busy summers and the often very hectic holiday season. Fall invites us to cultivate and practice awareness and mindfulness, the first steps towards greater peace, so that it becomes more accessible when things start spinning and feeling
not quite right. You will find that this time is well invested, as practice will enable you to move freely with more balance in your heart, mind and body. We will explore equanimity in the context of the four Brahmaviharas – the four sublime attitudes or qualities of the heart.
Join us for a balancing weekend of Reflection, Connection, Discovery and Movement in- and outdoors as well as plenty of opportunity for restoration.
SCHEDULE (Subject to change):
Friday
3:00 Arrival and Check-in
4:30-5:30 Yoga Flow
5:30 – 6:30 Dinner
6:45 – 7:45 Evening meditation and introduction to the Brahmaviharas,
Participants will receive journals to use over the weekend.
Saturday
7:30 – 8:15 Morning Mediation and gentle Yoga, possibly outside
8:15- 9:00 Breakfast
9:15 -12:15 Hike
12:15 – 1:00 Lunch
1:30 – 4:30 Downtime for Reading, Journaling, Resting and perhaps a relaxing Massage
4:30 – 5:30 Restorative Yoga practice
5:30p- 6:15 Dinner
6:30 – 7:45pm Journaling (journals with writing prompts will be provided).
Sunday
8:00am – 9:30 Yoga Flow
10:00am – 11:00 Brunch
12:00 pm check out
Facilitator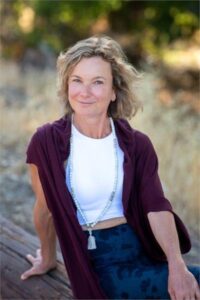 Uli Koehne
Uli developed a love for Yoga through her biggest life passions: Running and Hiking. First as a means to cross train but as her practice evolved, the tremendous physical and mental benefits motivated her to dive deeper. Uli has hiked extensively in Southern Marin and trekked in Peru, Patagonia, Nepal, along the PCT and John Muir trails in the High Sierras and climbed Mount Shasta. Over the past few years Uli also led several hiking…
Learn more about Uli Koehne