Spring Renewal – A yoga and meditation retreat
With David Cho
March 10 - 12, 2023
We welcome David Cho of San Francisco as our Guest Teacher for a weekend of grounding, relaxation, and community.
As the cold, dark season ends, Nature starts to brighten up, the trees regain their leaves, and new flowers begin to bud. Our bodies and minds can feel the same.  As we transition from Winter to Spring, we might feel the need to transform and start anew, ready for new ventures or fresh routines. We gather together at this retreat to reflect on our winter and call in our wishes for the Springtime.
Relax and recharge practicing Yoga and Meditation in a serene natural setting with like-minded friends. This retreat is suitable for all levels of practitioners. There will be plenty of free time to relax, read a book, go on a hike, meditate, and deepen relationships with yourself and others!
SCHEDULE:
Friday
3pm – Check in
4pm – Meet and Greet
5:30pm – Dinner
7pm – Restorative Yoga & Meditation
Saturday
7:30am – Meditation
8am –  Breakfast
10am – Vinyasa Yoga
12:15pm – Lunch
1pm – Free time
4pm – Hatha Yoga
5:30pm Dinner
7pm – Satsang (a sacred gathering)
Sunday
7:30 –  Meditation
8am – Vinyasa Yoga
10am – Brunch
12pm – Checkout
Facilitator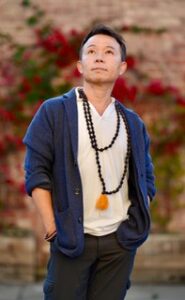 David Cho
From an early age, David had a fascination in the human body. After a successful dance career in Broadway shows and the Metropolitan Opera, he now shares his passion of movement and mindfulness with others through yoga & meditation. David is passionate about guiding his students to uncover their own potentials – physical and otherwise. With over 15 years of teaching dance, yoga and mat Pilates, he creatively combines his knowledge of all 3 disciplines…
Learn more about David Cho