Delight & Desire: A Summer Yoga Retreat
With Mairin McCracken
June 9 - 11, 2023
As we approach the longest day of the year, we might find ourselves dreaming, planning, and wishing. In this yoga retreat, we'll ruminate on how to turn up the volume on our desires- inviting ourselves to explore the in-between state of wanting and dreaming, while also providing ourselves plenty of time and space to delight in the present moment. You can look forward to three Vinyasa-style flows, one gentle, restorative flow, and one rigorous "Yoga Sculpt" flow, which will include some plyometrics and pilates style movements. Give your intuition some breathing room, and give yourself time to be, rest, and let inspiration find you. 
Schedule:
FRIDAY
3 pm Check in
4:00- 5:30 Yoga Session
5:30pm  Dinner
7:00pm  Welcome circle
SATURDAY
7:30-8:00am  Morning meditation
8:00am  Breakfast
10:00am-11:15  Yoga Sculpt Session
12:15pm  Lunch
*Free Time*
4:00-5:30pm  Yoga Session 
5:30pm  Dinner

SUNDAY
7:30-8:00am  Morning meditation
8:15-9:45 am  Yoga session
10:00am  Brunch
12:00pm  Check-out
About Mairin:
Mairin was drawn to yoga back in 2011 because it seemed to align with her dance background and helped her overcome an injury. She stayed because it soothed her nervous system, helped her through life's challenges, and increased her capacity for loving herself (and others). Mairin began teaching yoga in late 2016 and has been teaching Vinyasa and Sculpt Yoga (Vinyasa-style classes that infuse strength training and plyometrics) ever since. 
Mairin grounds her classes in philosophy, always giving her students something to ruminate on as they move and breathe together. Her favorite sources of inspiration are Pema Chodron, Father Gregory Boyle, David Whyte, myths from the Bhagavad Gita and other ancient texts, and her Kindergarten students (oh yeah, she lives a double life as a classroom teacher!).  You can learn more at www.movewithmairin.com
Facilitator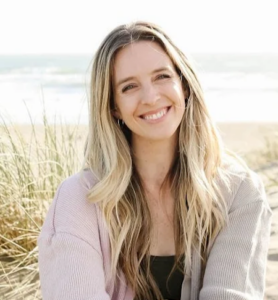 Mairin McCracken
Mairin was drawn to yoga back in 2011 because it seemed to align with her dance background and helped her overcome an injury. She stayed because it soothed her nervous system, helped her through life's challenges, and increased her capacity for loving herself (and others). Mairin began teaching yoga in late 2016 and has been teaching Vinyasa and Sculpt Yoga (Vinyasa-style classes that infuse strength training and plyometrics) ever since.  Mairin grounds her classes in…
Learn more about Mairin McCracken