Rooted in Nature – A Fall Equinox retreat
With Charlotte Keane and Shoshana Hebshi
September 20 - 22, 2024
We welcome special guest teachers Charlotte Keane and Shoshana Hebshi to offer a healing retreat that connects you to Nature and your lineage.
Do you feel a calling to connect with Mother Earth and your ancestors?
Join Shamanic Priestess Charlotte Keane from The Unstruck Drum for this weekend of deep communion with nature. You will learn to tune in so deeply that you can feel the voice of Mother Earth. 
You will experience a Shamanic drum journey to meet with your spirit animals in the tradition of our ancestral elders. 
Our daily yoga practices, led by Shoshana Hebshi, will help us feel into the grounding sensation of Mother Earth, composting any parts of your energetic self that needs to be let go so you can welcome abundance and gratitude into your fullest self.
Together, we will make essential oils from locally grown lavender. The ceremonial extraction of oils is ancient work performed by Priestesses all over the world. Using the holy oils we create together, you will be anointed to open the third eye chakra–Ajna, to support your ongoing path of awareness and spiritual communication. You will be able to take some oil home with you. 
This retreat includes:
Yoga for all levels
Shamanic Drum Journeys
Connection to Spirit Animals
Handcrafting essential oils from plants
Charlotte is a third generation Shamanic healer and curandera. Ordained in the Order of the Rose, she is a Myrraphore and Priestess of the Rose Magdalene.  Her ancestors from Mexico shared these practices with her, and she is honored to bring this medicine to you. 
Shoshana Hebshi, owner of Revolution Yoga in Santa Rosa has been teaching and practicing yoga for 25 years. The practice has changed her worldview, her mission in life and her driving purpose. Through the creation of Revolution Yoga, she aims to manifest her desires for Healing the World one breath at a time.
Facilitators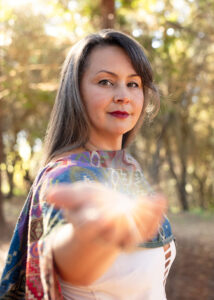 Charlotte Keane
Charlotte proudly carries her Grandmother Canela's ancestral tradition of healing and medicine directly from her lineage in Mexico, Central and South America. Guided by the beauty and grace of the Divine Mother and the Oracle of Grandmothers, she blends these indigenous practices with deep tenderness and love of The Holy Rose. Her calling brings the missing component of ceremony back into our culture and consciousness. It is an important part of community. And community is…
Learn more about Charlotte Keane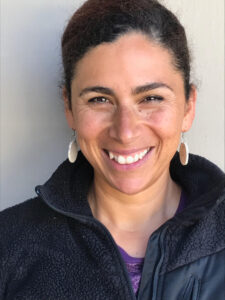 Shoshana Hebshi
Shoshana Hebshi, owner of Revolution Yoga in Santa Rosa has been teaching and practicing yoga for 25 years. The practice has changed her worldview, her mission in life and her driving purpose. Through the creation of Revolution Yoga, she aims to manifest her desires for Healing the World one breath at a time. revolutionyoga.net
Learn more about Shoshana Hebshi