The Essence of Yoga: A Weekend Retreat
With Jenn Russo
November 17 - 19, 2023
For your safety and ours, we require proof of vaccination from all visitors and residents of Ratna Ling Retreat Center.  We may offer a rapid test upon arrival.   We wish to provide peace of mind for all of our guests.
We welcome back Master Teacher Jenn Russo of Healdsburg for a special yoga retreat at Ratna Ling to celebrate the Autumn in the Redwoods!
In this weekend retreat, we will focus on using the breath to strengthen our practice and experience a lasting peace. Afternoons will be a slow flow/restorative practice, focused on calming, centering and relaxation. The morning practice will emphasize movement initiated by breath. This vinyasa practice is vigorous, yet full of ease, balancing our lives both on and off of the mat. Whether you are coming to relax after harvest, or before the holidays or to just take a break for yourself, this weekend will leave you filling restored and renewed. There will be time on Saturday for an afternoon hike, nap or massage.
Retreat includes: accommodations Friday and Saturday night; meals- Friday dinner through Sunday brunch; 2 slow flow/ restorative yoga practices and 2 vinyasa yoga practices.
Sample Schedule (Subject to Change):
FRIDAY
3:00pm Check in 
4:00-5:30pm  Gentle Yoga 
5:30-6:30pm  Dinner 
7:00-8:00pm  Opening Circle
SATURDAY
8:00-8:45 am Breakfast
9:00-10:30am Vinyasa Yoga
12:15-1:00pm Lunch
1:30-3:30pm Free Time or Massages 
4:00-5:30pm Gentle Yoga
5:30-6:30pm Dinner
SUNDAY
8:00-10:00am  Vinyasa Yoga & Closing Circle
10:00-11:00am Brunch
12pm Checkout 
Facilitator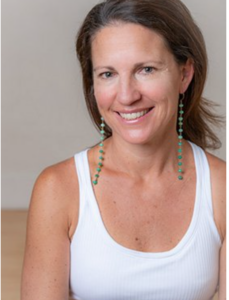 Jenn Russo
Jennifer Russo, M. S., Certified Yoga Teacher, Massage Therapist and Health Coordinator, began her yoga studies in San Francisco in 1997. Having a background in Kinesiology, Anatomy and Massage therapy, teaching yoga came very natural to her. She immediately fell in love with the flow of the practice and the strong connection to her 'center'. Jenn has studied with many teachers and in many traditions of yoga. She finds a strong connection to Vinyasa Yoga,…
Learn more about Jenn Russo