Listening to the Heart
With Frances Belleza
March 1 - 3, 2024
We welcome a special Guest Teacher, Frances Belleza of the Bay Area, to offer this heart-opening and self-reflective retreat!
There are times in our lives when we feel disconnected, when we need something more, or something feels out of alignment. This is when we can pause, take a deep breath, and listen to our heart space. What is true for us? What matters to us? What can I let go of?
In this heart-expanding retreat, we will take time to listen. We will connect with ourselves through movement, breath, mantra, and meditation. We will explore our emotions and ground ourselves in our truth. We will feel into self-love again.
This retreat includes:
Yoga for all levels
Chanting/mantra
Meditation + Self-inquiry
SCHEDULE (subject to change):
Friday
3:00-4:00     Check-in
4:30-5:30     Slow Flow & Grounding Meditation
5:30-6:15      Dinner
6:30-8:00     Opening Circle Introduction
Saturday
7:30-8:00       Pranayama & Morning Meditation
8:00-8:45       Breakfast
9:00-10:00     Mantra & Sun Salutations
11:00-12:30   Discussion on Mantra & Meditation with Journaling
12:30-1:00     Lunch
1:00-1:30       Temple Tour
1:00-4:30       Quiet time, bodywork and massage by appointment
4:30-5:30       Gentle Flow & Meditation
5:30-6:15       Dinner
7:00-8:00      Chanting/Kirtan
Sunday
7:30-8:00        Pranayama & Morning Meditation
8:00-9:00        Energizing Flow & Chant
9:00-10:00      Closing Ceremony
10:00-11:00    Brunch
12:00                Check out
Facilitator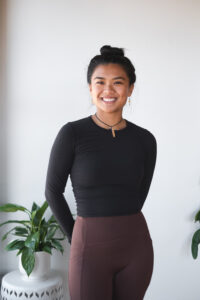 Frances Belleza
Frances Belleza is a local Bay Area native and yoga teacher whose practice marries movement, sound, breathwork and devotion. She believes that everyone can tap into divine self through their mind, body and soul. Frances supports this discovery through yoga styles like Hatha and Vinyasa, centering practices like meditation and elevates collective frequency through music and chanting. 
Learn more about Frances Belleza