Exactly As You Are: Practicing Acceptance
With Lydia Hwang and Jen Lo
April 25 - 28, 2024
We welcome back our beloved friends Lydia Hwang and Jen Lo for this very special retreat to nourish your soul!
Sometimes we find ourselves broken and feeling like we're not enough. We need friends and practices to help us through these tough times. We are reminded that difficulty and pain make us stronger, wiser, and beautiful. We can get back up again.
Join Lydia Hwang and Jen Lo for this intimate retreat, which includes daily yoga, step-by-step Kintsugi making lessons, evening sound baths, and guided color meditation. Each participant will create their own piece of Kintsugi artwork to take home, as a reminder of our ever expanding ability to heal with the divine wisdom that is gold.
Kintsugi is the Japanese art of mending broken pottery with gold. A world view centered on the acceptance of transience and imperfection — a way of living life with an authentic appreciation for the beauty to be found in what is, just as it is. As we continue to navigate this ever-changing new world, the art of kintsugi is a practice to heal through acceptance. Read more about kintsugi here.
This retreat is designed to help release in order to expand your spiritual capacity. Look ahead with your heart-mind and manifest that reality!
Treat yourself to a luxurious extended weekend getaway and be nourished by the coastal redwoods of Sonoma County. Practice yoga, meditation, artmaking, and receive the magic of sound baths. Relax and enjoy delicious vegetarian meals during this 3-nights stay in a modern yet cozy cottage. Each cottage has two bedrooms with a shared bathroom, kitchenette, living room, dining area, and deck. For those seeking more solitude, single occupancy booking is available. Optional hikes to the beach and massages are available. Retreat from the daily digital routine and reconnect to the soul!
All art supplies are included, and all experience levels are welcome!
SCHEDULE (Subject to Change)
Thursday
7:00pm — Opening Circle & Evening Practice
8:00am-8:45am — Breakfast

9:00am-12:00pm — Kintsugi & Yoga Session

1:00pm-5:00pm — Free time (massage/drive/hike to beach)

6:45pm — Yin & Sound bath
8:00am-8:45am — Breakfast

9:00am-12:00pm — Kintsugi & Yoga Session

1:00pm-5:00pm — Free time (massage/drive/hike to beach)

6:45pm — Yin & Sound bath
8:30-10:00am – Morning Practice & Closing Circle
Facilitators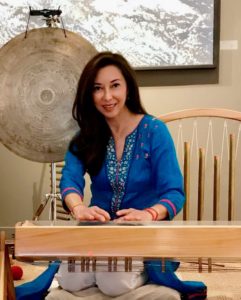 Lydia Hwang
Lydia Hwang is a Sound and Color vibrational healer using different sacred instruments, color essences, silks and her voice. She channels  divine energies in her private sessions and has a dedicated practice in Woodside, CA at the Spirit House. Her journey began when she was searching for her own healing, and this led to intensive training with Sound master Fabien Maman, color teacher  Patricia Janusz and ordained Druid priestess Nicole Bertolucci in South of France and…
Learn more about Lydia Hwang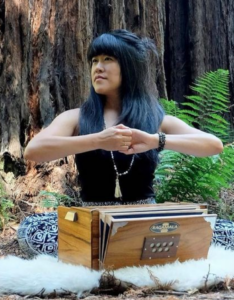 Jen Lo
Jen loves to teach. From painting to yogasana, she brings her devotion and sensitivity to all she offers. She believes that every person is creative and her mission is to be a torchbearer for artists—Yoga as artistic meditation. She seeks to inspire clients by being their muse, a playful conduit that aligns with the spontaneous nature of creation. Jen is a graduate of the Bhakti Nova School, her dear teachers include Nubia Teixeira, Toni Cupal,…
Learn more about Jen Lo