Yoga for Self-Care – ONLINE
With Calista Ocean
June 21 - July 12, 2023
We welcome Guest Teacher Calista Ocean to offer Self-Care Yoga ONLINE to help you find balance and ease. Calista will be teaching at A Weekend of Self-Care at Ratna Ling from September 1st-4th!
4 sessions every Wednesday 5:30-6:30pm PST via Zoom
June 21-July 12
Donations welcome
In a busy, modern world, it can be challenging to find moments of stillness and ease. Finding balance requires us to navigate between movement and stillness. With yoga, we can explore this interplay and cultivate a deeper connection to our bodies, minds, and inner selves. This workshop offers opportunities to discover this balance through a blend of yoga postures, breathwork, and visualization techniques. Whether you're new to yoga or an experienced practitioner, join Calista Ocean in exploring the beauty of your inner landscape and finding harmony in your daily life.  Register now and invest in your self-care journey!
Format
Workshops meet online for four weeks, for an hour, with an optional half hour for discussion and sharing.  Participants may drop-in for an individual workshop or attend the 4-week series.  The first hour of each class will include centering, movement, and holding postures with a focus on the breath.  ALL are welcome!  These workshops are intentionally designed to be inclusive for all body/mind types.
Facilitator
Calista Ocean is one of the facilitators of our upcoming Self-Care Retreat in September.  She's a writer, yoga teacher, and adventure-seeker who is passionate about inviting others to journey through the beauty of their inner landscape by practicing yoga and self-reflection.  She started teaching yoga in 2002 after receiving her first 200-hour teaching certification from Integrative Yoga Therapy.  She continued to study with various teachers and completed teacher training with Embody Tantra in 2016, renewed her 200-hour certification through Shivakali Yoga in 2019 and completed the Shivakali 300-hour Teacher Training in Bali in 2022.  The diversity and breadth of her experiences and training support her in creating a safe space for others to relax, renew, and reconnect with their inner wisdom.
Facilitator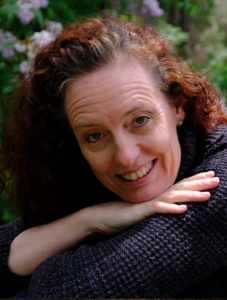 Calista Ocean
Calista is a writer, yoga teacher, and adventure-seeker.  She's passionate about inviting others to journey through the beauty of their inner landscape by practicing yoga and self-reflection.  Her classes and workshops combine postures, breathwork, dynamic movement, and visualization to support students who long to reconnect with their body and remember their own wisdom. Calista started teaching yoga in 2002 after receiving her first 200-hour teaching certification from Integrative Yoga Therapy.  She continued to study with…
Learn more about Calista Ocean