Mantra & Meditation: Using sacred art to inspire the mind – ONLINE
With Rosalyn White
June 3 - July 1, 2023
5 Saturdays ONLINE
June 3, 10, 17, 24, and July 1
9:00-10:00am PST
In Tibetan Buddhism, sacred art is more than art. It is a gateway to profound insights and wakefulness. Divine art helps us to visualize the deeper and more powerful parts of ourselves. Experiencing the serenity and beauty of the art while chanting mantras can be a shortcut to finding a joyful state of mind.
In this image, Buddha Amitayus offers blessings for a long and successful life, enriched with wisdom and compassion.
In this 5-week online series, we will explore a different deity and mantra each week, discussing the symbolism of the art and learning a melody for each mantra. There will be a guided meditation using the imagery of the deity to help us relax and feel a deep sense of calm. Questions about the symbolism of the art, mantras and meditation practices will all be welcome.
June 3: Shakyamuni Buddha Mantra
June 10: Healing Buddha Mantra
June 17: Longevity Mantras: Buddha Amitayus
June 24: Longevity Mantras: Tara
July 1: Longevity Mantras: Bodhisattva Ushnisha Vijaya
Facilitator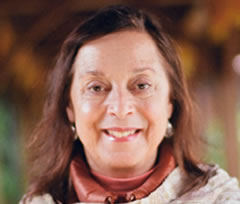 Rosalyn White
Rosalyn White was the Director of Ratna Ling for 7 years.  She has studied meditation and Tibetan art under the guidance of the Tibetan Buddhist teacher, Tarthang Tulku, for over forty years. She holds a BFA in Fine Arts from the California College of Art and a teaching credential from UC Berkeley. She has been teaching classes in meditation and sacred art for over 25 years. The depth and breadth of the Tibetan teachings have…
Learn more about Rosalyn White