Heavenly Harp Performances: Day Visit Only
With Diana Stork
August 25 - 27, 2023
COVID POLICY: For your safety and ours, we require proof of vaccination AND negative test result from all visitors to Ratna Ling Retreat Center. We wish to provide peace of mind for all of our residents and guests.
Diana's harp music, is ethereal and soothing to the spirit. She will offer some evening sessions to send us off to a good night's sleep. In addition, Diana will offer her newly created "Kirtan"program, using traditional Buddhist mantras, where the audience gets to chant along to her lovely melodies. The program will be presented free to all attending the retreat that weekend, Appreciation: A State of Joy.
Pricing is for Day Visits only. We request donations for both the musician and any meals you partake in. When registering, please indicate which day and hours you'd like to visit.
For the safety of our community, we require proof of vaccination and negative test for all visitors.
Performance Schedule:
August 25, 3-4 pm Welcoming Harp Tunes, Lobby
August 25, 8:00-8:30 pm Soothing Sounds for Relaxation, Yoga Room
August 26,1:30-2:30 pm, Kirtan with Buddhist Mantras, Yoga Room
August 26, 8:00-8:30 pm, Heavenly Harp Music, Yoga Room
August 27, 10:00-11:00 am, Joyful Sounds to Send You on Your Way, Dining Room
Facilitator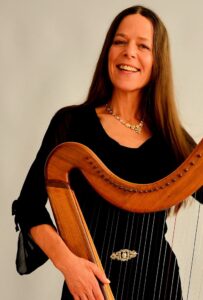 Diana Stork
Diana Stork is an acclaimed harpist and a longtime Buddhist student and practioner.  She has shared her harp music for decades with Buddhist teachers, spiritual retreats, and a wide variety of healing and spiritual settings. Diana finds that she is devoting an increasing amount of her work with the harp, to the service of harmony and world peace. www.harpdancer.com
Learn more about Diana Stork