Peace & Presence – A yoga & meditation retreat
With Dr. Sumbul Beg
May 31 - June 2, 2024
When we suffer or struggle, we are either living in the past or projecting into the future.  We may find ourselves dwelling on regrets or worrying about what might or could happen. But true ease and freedom are found in the present moment. When we can learn to focus on the here and now, we can tap into our inner peace and cultivate lasting joy.
This is a unique program that teaches you how to access the present moment and create everlasting happiness. Led by Dr. Sumbul Beg, an esteemed expert in her field, you will learn practical techniques that can benefit all areas of your life.
One of the key techniques you will learn is a powerful breathing exercise designed to induce relaxation, alleviate stress, and enhance overall well-being. In addition to breathwork, you will also learn a range of other complementary practices, such as meditation, yoga, and mindfulness. These techniques will empower you to:
Effectively manage stress
Reduce anxiety
Improve the quality of your sleep
Deepen your self-awareness
Cultivate resilience
Foster meaningful relationships
This retreat is a life-changing experience that equips you with the tools to create everlasting joy. If you're ready to seize control of your life and embark on a more fulfilling journey, this retreat is tailor-made for you.
Who is this program for?
The Peace & Presenxce Retreat welcomes individuals of all backgrounds, whether you're a novice or an experienced meditator. Dr. Beg will customize the program to suit your unique needs and aspirations.
What can I expect?
A nurturing and supportive environment
Ample time for self-reflection and personal discovery
Opportunities to connect with like-minded individuals
A profound sense of peace and well-being
What are the benefits of the program?
By participating in this Retreat, you may experience a myriad of benefits, including:
Heightened happiness and overall well-being
Reduced stress and anxiety
Improved sleep patterns
Enhanced relationships
Increased self-awareness and resilience
Sharpened focus and concentration
Improved overall health and vitality
SCHEDULE (Subject to change):
Friday
3pm   Check-in
4:30pm   Opening Ceremony: Gather together to set intentions for the retreat.
5:30pm   Dinner
7pm  Evening Yoga + Meditation
Saturday
6:30am   Morning Meditation: Start the day with a guided meditation to center yourself.
7am   Energizing Yoga Practice: An invigorating yoga session to awaken the body and increase vitality.
8am   Breakfast: Savor a nutritious breakfast buffet
Free Time
12:15pm  Lunch
1pm  Temple Tour
4pm  Yoga
5:30pm Dinner + Ratna Ling History
7pm  Meditation
Sunday
6:30am  Sunrise Meditation: Witness the tranquility of the early morning with a serene meditation.
7am  Gentle Yoga and Stretching with sound therapy: Engage in a gentle yoga session to release tension and promote relaxation.
9am  Closing Ceremony: Reflect on your journey, share insights, and set intentions to carry forward.
10am  BrunchBreakfast: Enjoy a final breakfast together.
12pm Checkout
Facilitator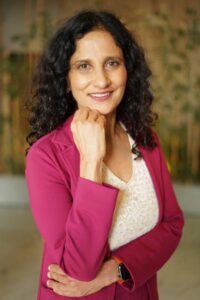 Dr. Sumbul Beg
Dr. Sumbul Beg is a certified yoga educator, life coach, and physician who has dedicated over a decade to teaching yoga. In addition to her role as a doctor, she currently organizes yoga and meditation retreats and creates engaging curriculum content for experiential programs and workshops for her patients. Dr. Beg is driven by a passion for personal and professional growth, and she also offers mentorship to others. She is committed to fostering compassionate inquiry,…
Learn more about Dr. Sumbul Beg