Wisdom Healing – A Contemplative Retreat
With Barry Schieber
August 23 - 25, 2024
For your safety and ours, we require proof of vaccination from all visitors and residents of Ratna Ling Retreat Center.  All participants will wear masks indoors, and some classes may be offered outdoors.  We wish to provide peace of mind for all of our guests.
"Do we have more potential than we acknowledge?"
Discover the profound wisdom of Tarthang Tulku as we explore his teachings through selected quotations from his writings and the practice of Kum Nye (Tibetan Yoga). The benefits of reading Quotes are immediate, powerful, and touching while delivering surprising insights and healing. This retreat will include the physical practice of Kum Nye, postures and exercises which nurture relaxation and inspire us to our full potential.  The combination of Quotes and Kum Nye awakens the body and mind, senses and heart.
All ages, bodies, and skill levels are welcome.
This weekend includes:
Nature Walk
Meditation
Tibetan Yoga
Discussion and Journaling
Each guest will receive a complimentary 4-book set of The Quiet Moment Collection: Breath, Inspiration, Contemplation and Compassion.
Feedback from former guests:
"I loved the grounds, the discussions and the opportunities to connect with others."
"Beautiful place, warm and friendly people, thoughtful programming, cozy accommodations and delicious food. Well done!"
" I liked the silence and Barry's leadership."
"I was looking for a retreat into meditation, relaxation, quiet and this suited perfectly."
"I liked the guided reflection and journaling."
"It was amazing, can't believe this much of a transformation in 2 days"
Schedule (Subject to change):
FRIDAY
3:00pm Checkin
5:30pm Dinner
7:00 – 8:30 PM Introduction and breathing exercise and gift of the new "Breath" book
SATURDAY – Day of Silence
8:00 am Breakfast
9-10:30 am Kum Nye Exercises and meditation
10:30 – 10:50 am Break
10:50am-12:15pm Kum Nye relaxation exercises and focusing on breath awareness
12:15pm Lunch
3:00-4:00 pm  A walk through the redwoods with attention to body and mind
4:00 -5:15 pm  Working with Quotes from Breath, discussion, journaling, and practice
5:30 pm Dinner
7:00-8:30 pm   Quotes and breath
SUNDAY
8:30am-10am  Visualization, chanting and meditation
10am Brunch
12pm Checkout
Facilitator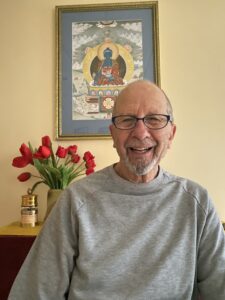 Barry Schieber
Barry graduated from the University of California, Berkeley. He began his professional life working in investment banking before becoming a student of Tarthang Tulku in the early 1970's. From 1988-1993 he was Dean of the Nyingma Institute in Berkeley, California. In 2002 he founded Silent Moon Books a publishing company to relate stories for children and adults about Moritz, his therapy dog. He has taught Kum Nye (Tibetan relaxation yoga) throughout the world for over…
Learn more about Barry Schieber